Living History
21 Nov 2018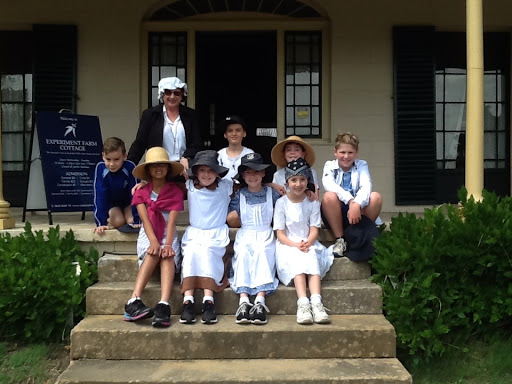 Experiment Farm Cottage in Harris Park and Old Government House in Parramatta were the destinations for a recent Year 4 excursion.
The aim of this excursion was to explore the nature and consequence of European settlement in Australia. The children had the opportunity to explore and engage with primary and secondary artefacts to support their learning and understanding.
Learning was different in colonial Australia.
Gabbi shared about the differences in the early classrooms.
In Mrs Johnson's classroom in Old Government House, we had to use slates and write with chalk. We had to learn everything by repeating the words the teacher announced in order to learn the spelling off by heart. We also learnt writing and mathematics. Children could not eat at all! They had to be there from Monday to Saturday because the entire colony attended Church on Sunday.
At Experiment Farm, Alessio was surprised how much effort went into food preparation.
'We were shown how hard it was to make food in the past. We learnt how they made different things like butter, toast and other foods. By the time the servants were finished making and serving breakfast for their master and mistress, it was time to start getting lunch ready.
Experiment Farm Cottage and Old Government House provide "living history" for children and adults. "I would recommend people visit these places so that they can learn more about the history of Australia", said Isaac.