Year 6 Blue - Limericks
27 Sep 2018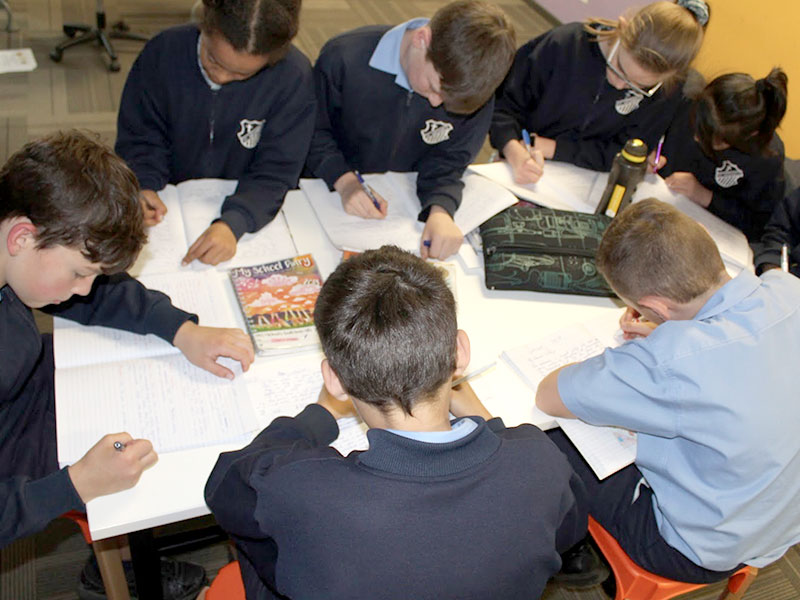 Limericks have been the focus for reading and writing in Year 6 Blue. Students were given many opportunities to share and read the poetry genre of limericks.
They were then able to identify the criteria for writing a limerick. To be successful at writing limericks, the poet uses a specific rhyming pattern [a - a -b - b - a], the poem is humorous and tends to make sense from nonsense, often through the use of different figures of speech.
Have they been successful? Yes!
Read and enjoy these limericks written by 6 Blue 'jest for fun'!
Dribbling, Kicking and scoring
Soccer is never that boring
Passing until you give the ball a wack
If you don't score your coach might even give you a smack
Come on give it a go soccer is not a sport you should be ignoring
John Barakat
There was a girl called Lizzie Jade
She liked to drink lemonade
She let out a burp
She had her last slurp
And decided to drink Gatorade
Elizabeth Paton
Why do we have homework after school?
I feel like a fool.
I so want to cry
I want to deny.
This is so uncool.
Kayla Thé
Casey owned a lizard
Named Mr Blizzard
That lived in a shoe
And would always say moo
Oh! that lizard named Mr Blizzard
Ashley Jay
As I try to write a limerick on the computer,
I couldn't think of one, which made me panic and shudder.
It was my homework, I didn't want a hit from the cane,
The pain from it was incredibly insane
In fact, it was more of a murder!
Raphael Kim
Once there was a man named Paul,
Who skipped right into a wall.
He bumped his head,
And ate some bread
Then got hit with a bowling ball.
Amy Schier
Stephanie Chue Hong
Really liked to play ping pong
She hit the ball
It hit the wall
And it made a big bong
Stephanie Chue Hong
There was a little house
Where lived a mouse
The mouse could eat cheese all day
But he was on a strict diet so he said 'No way'
This house housed a very strange mouse
Aidan Donnelly
I did something silly
Went outside when it was chilly
I froze
Well that's what I chose
I did something silly.
Hannah El-Akhras
I want to give the soccer ball a great big hug,
Because soccer is my drug.
Running, Kicking, Scoring goals,
It's so much more fun than playing Lawn Bowls.
Soccer is the Best, if someone asks you to play don't give them a shrug.
Kitwarla Mkali
There once lived a boy near the ocean,
Who thought he'd found a magical potion.
He took a big drink,
and started to think
it tasted like suntan lotion.
Cristian Mohole
One Saturday morning at four
Jinkins heard someone at the door
He thought it was quite odd
So, he went and told his mate Todd
All on a morning at four
Shae Munro
1,2,3,4
What is that at the door
Open it
Just a bit
Now close it and count to four
Charlize Murray
Basketball, soccer, hockey
In all these sports people get cocky
Sport is great for exercise
Luckily in these sports no one dies
There is a boxer in a movie and his name is rocky
Alexander Sobb
Once there was a guy named Jimmy
His very best friends name was Timmy
And His pants fell down
And then he went strolling down town
When he went down town he did the shimmy
Samuel Walters
There was a man who was very hairy,
All the kids thought he was scary,
Dad starts to crack up and laugh,
And Mum starts to feel shivers down her calf,
And let me tell you now he does not look like a fairy.
Emily Ward
There once was a girl who loved horses.
She always rode in great concourses.
She was rather wild,
But not very reviled,
And she couldn't resist the workhorses.
Katherine Liu
A newspaper man named Fling,
Could make "copy" from any old thing.
But the copy he wrote,
Of a five-dollar note,
Was so good he is now wears so much bling.
Raymond Maikhael
There once was a man called Crocket
Who went to the moon in a rocket
The rocket went BANG!
His braces went TWANG!
And his false teeth fell in his pocket
Scarlett Jackson
A painter who lived in Britain
Interrupted two girls and their kitten
He said with a sigh
That wooden bench - well I
Just painted it right where you're sitt'n
Cooper Hume
There was a nice little goat
He owned a fancy old coat
He looked after it nice
And ate pudding and rice
A fancy goat with a coat
William Cowling